Directed by Alfred Hitchcock. After Marion ran away with $40,000. She comes across a hotel that is runned by Norman who has been under domination by his mother for too long.
Psycho is a great movie for doing an essay on for Unit 3 and 4. However, Rope is the one film I am going for. Anyway, the storyline for this film is very well done and understandable with the use of murder like the film Rope has. The film also has editing from switching areas, environments and characters. The film Rope doesn't have no editing and is just a continuing shot.
(Hitchcock, Alfred. (1948). Rope. http://1.bp.blogspot.com/_fwhmVZ-kh-0/R4ioDY_FbvI/AAAAAAAAAEo/UffcFldM47g/s320/vlcsnap-36353.png (Accessed 8th February 2011))
Hitchcock, Alfred. (1960). Psycho. http://3.bp.blogspot.com/_mpBGa4P5jUo/TMREAEXkMjI/AAAAAAAAFw4/tXsXkLsVyaw/s640/psychohouse.jpg (Accessed 8th February 2011))
(Hitchcock, Alfred. (1960). Psycho. http://shootingpeople.org/bensblog/wp-content/uploads/2009/05/cusl11_hitchcock0803jpg.jpeg (Accessed 8th February 2011))
Inside the hotel rooms is very uncanny as there is quite some shadows around. Making it look like someone is watching you or hiding in the shadows to get you. When Marion went to take her shower, the music pretty much tells you something is going to happen which then did. Inside the house is uncanny when Marion's sister enters the mother's bedroom and basement.
Anyway, the start of the film, Alfred Hitchcock made one of the characters to show less motivation on purpose while the other one has much more motivation as the character is important in the storyline. This gives it away to the viewers watching this horrific film as it shows that the characters that show less motivation than others will properly get murdered first before the others do.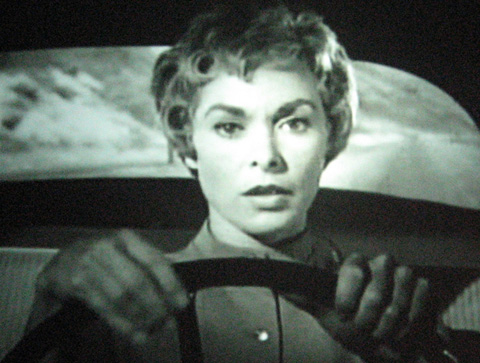 Less Motivation.
More Motivation
(Hitchcock, Alfred. (1960). Psycho. http://images.artnet.com/images_US/magazine/reviews/andrews/andrews11-27-07-6.jpg (Accessed 11th February 2011))
(Hitchcock, Alfred. (1960). Psycho. http://farm5.static.flickr.com/4015/4714196032_4b644382be.jpg (Accessed 11th February 2011))
"The movie's only shortcoming is that one of the characters seems to have little motivation in the first act of the movie but as the story progresses, you realize that Hitchcock (GENIUS! GENIUS! GENIUS!) in a stroke of genius has done this on purpose, because there is another character whose motivations are even more important. Vitally important."
(LoveCoates; 2001)
Hitchcock also made the film in black and white so that it is suitable for younger viewers as it doesn't show blood and gore. The scene of the shower room tries to show that when the women is stabbed, though she is not literally not. Hitchcock wants his viewers to look closly to his work than the blood and gore involved with the use of murder. Like the film Rope, the killer will try everything to not get detected.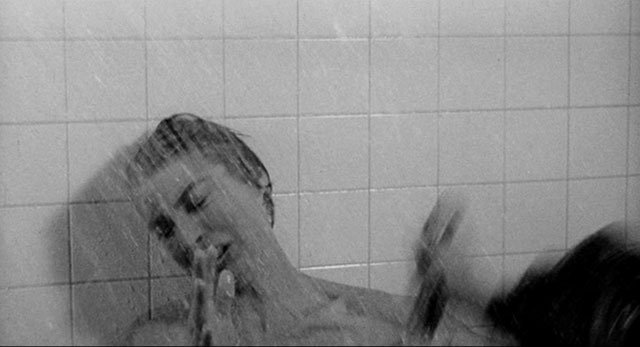 (Hitchcock, Alfred. (1960). Psycho. http://classic-horror.com/files/images/brutal_psycho_full.jpg (Accessed 11th February 2011))