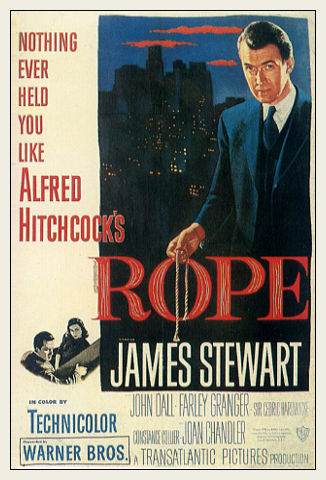 Directed by Alfred Hitchcock. Two young men by the name of Brandon and Philip murdered their class mate, David, and hid his body in an old chest in their apartment. However, Rupert, their class teacher, starts to suspect during the small party when Brandon starts to become more daring and Philip starts to get more nervous and guilty.
The film has no editing invloved at all and the film strip they used can only last for 6 or 10 minutes. This made me loose interest in the film but what really gets me is that when the film strip is about to run out, they do a close up to someone's back or an object so that they can quickly change the film strip with a new one so that they can continue.
(Hitchcock, Alfred. (1948). Rope. http://2.bp.blogspot.com/_s440RiiMhzI/Sm8hi9JNXAI/AAAAAAAAEJ0/IkN_U0Kr6Y8/s400/Rope.jpg (Accessed 3rd February 2011))
As I lost interest with this film, I realised the uneasiness of what the film contains. It's like having the feeling of guilt that Philip has in the film, making him feel unease of the situation of murdering David. However, the guilt didn't went worse to those who are watching it but the character himself by the use of questions that made Rupert start to suspect.
(Hitchcock, Alfred. (1948). Rope. http://home.comcast.net/~flickhead/rope022.jpg (Accessed 3rd February 2011))
"Hitchcock shot the film in a series of long takes of 9 to 11 minutes each, not moving the camera from the set"
(theowinthrop; 2004)
Every new film strip the movie uses, the lighting of the environment outside changes bit by bit, making it look like time has passed.
(Hitchcock, Alfred. (1948). Rope. http://t3.gstatic.com/images?q=tbn:ANd9GcR6NTdfqtqQYA1evTViTUIyR4_FW3_FEjba8lE36LiwXVK0JuXt (Accessed 5th February 2011))
(Hitchcock, Alfred. (1948). Rope. http://1.bp.blogspot.com/_fwhmVZ-kh-0/R4ioDY_FbvI/AAAAAAAAAEo/UffcFldM47g/s320/vlcsnap-36353.png (Accessed 5th February 2011))
(Hitchcock, Alfred. (1948). Rope. http://t2.gstatic.com/images?q=tbn:ANd9GcQMbF8jmEz-yk7xIXR6xEEm_oTJ_ii1Pjy2Q188n_hwOLWwkMCgTw (Accessed 5th February 2011))