Directed by Robert Wise. The environment chosen to create this film was fanastic enough to give off a creepy feeling that makes you curious what's around the corner. The effects used on the door to look like it was pushing itself out from the center was absolutely brillant. It's like it is breathing like a normal human being.
(Wise, Robert. 1963. Still Image. http://i2.photobucket.com/albums/y32/danolson/Blog%20stuff/door.jpg (10th December 2010))
No horror movie like this would have ever done that in the 1960's. The sound effects were spot on to get a cold chill down any viewer watching this. I may seen the remake of this film in the 1990's but this made me excited, making me feel like watching it all over again. I have seen many horror films but this gives out something to screem about. Horror movies these days lack this to make the viewer curious before getting a fright of their lives.
"I was alone in the house, very late at night. Every sound amplified.. I was a full grown woman. For Pete's sake, I have watched almost every monster movie made. Even the original "Wolfman." Hummm, I could handle this.

Wrong! I have never been so frightened in my life. Who or What was holding her hand??..."
(Wise, Robert. 1963. Still Image. http://1.bp.blogspot.com/_v94HclVn6hA/SX4PBlbWvdI/AAAAAAAAGx4/DNGHnkR82VE/s400/The+Haunting.jpg (10th December 2010))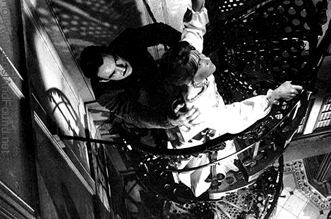 (Wise, Robert. 1963. Still Image. http://hollywoodlostandfound.net/pictures/films/haunting/haunting1.jpg (10th December 2010))
If horror films were made like this has been, I will watch them all just to scare myself out of my very own skin. The area they picked to create this film was a good one. The mansion gave off every eery feeling that it had to offer, I am not sure if the remake used the same area but who cares. The first movie is always the best than those who remake it.
(Wise, Robert. 1963. Still Image. http://constantinesnightout.files.wordpress.com/2010/10/hill-house.jpg (10th December 2010))