Directed by Stanley Kubrick. A family of three became caretakers of an isolated hotel for the winter. During their stay, the father goes into maddness by the presence of evil spiritual ghosts, telling him to 'correct' his family. His son with a physic gift which is also called the shining, sees horrific images of the past and future.
Trying to understand the film at the beginning was hard until you carry on watching it further on. You start to see signs of maddness from the father by stress, overworked, nightmares, seeing things and getting told by a ghost who died also from maddness.
(Kubrick, Stanley. (1980) The Shining. http://metaphilm.com/images/philms/shining_bathroom.jpg)
The places that seems to be 'uncanny', would be the corridors, the room 237, the gold room and the labyrinth. The reason why as the corridors look like something will come right out of the corner. The room 237 is where the butler, Philip Stone, his wife and two daughters were staying until their deaths. The gold room is where the father, Jack, meets the ghosts including the butler. The labyrinth turns uncanny when Jack was chasing after his son, Danny, with an axe until Danny escaped. The next day, Jack was seen to be dead in the Labyrinth from the cold night as well as having a broken leg.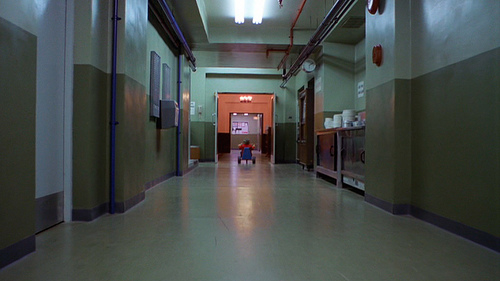 (Kubrick, Stanley. (1980) The Shining. http://linedandunlined.com/wp-archive-uploads/shining-5.jpg)
(Kubrick, Stanley. (1980) The Shining. http://www.mikeettner.com/wp-content/uploads/2009/07/kubrick-the-shining-danny1.jpg)
(Kubrick, Stanley. (1980) The Shining. http://2.bp.blogspot.com/_2Wraxo-hP7o/TSyjCZeElWI/AAAAAAAACZ8/DHbQH4cDudg/s1600/the-shining-snow.jpg)
"Frightening because of the extraordinarily effective use of long shots to create feelings of isolation, convex lens shots to enhance surrealism, and meticulously scored music to bring tension levels to virtually unbearable levels."
(us012862; 2000)
As the quote explains, the use of long shots, angles to create a surrealism and distorted effect which will give the viewer watching the film a taste of horror and fright.